Amazing crispy sprout and caper bruschetta? Who would have thunk it?
My daughter is two and has a wonderful habit of celebrating her little wins. Sitting on the potty prompts a joy filled "I did it!" Putting on her own shoes, even if they are on the wrong feet, always elicits happy clapping and sometimes a jig. I don't do that. I don't celebrate my little wins. Perhaps it is cultural, perhaps it is hereditary, perhaps it is stupidity.
Little wins are the things that get us through the day, they shouldn't be the things we achieve on our way to the BIG things. They are the big things. Noticing them is BIG. So, I am putting on my happy face and celebrating a small win. I think this amazing crispy sprout and caper bruschetta is, well, amazing.  It might even convert the most earnest sprout haters to begrudgingly respect the misunderstood little vegetable.  The capers are crisp and crunchy little burst of flavour while the roasted sprouts are happily dressed in garlic and  lemon. Amazing.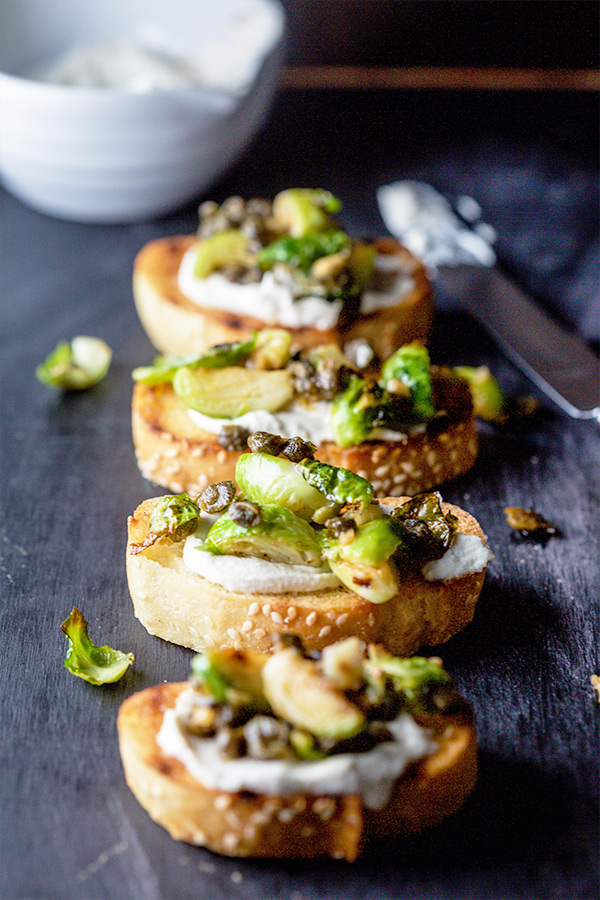 Speaking of small people, when I was little I did not love Brussels Sprouts. Let's be honest, they aren't sexy, not that that matters to a toddler, but without a little love they are kind of funky smelling cabbage-thingys, right? A few years ago I began roasting them and it was a revelation. Add a little lemon and garlic and disco, a very sexy sprout indeed. I have another recipe for a smoky Spanish style sprout that makes the earth move a little but that's for another day.
I wanted to add a little salt to the dish without seasoning and salted capers rolled in corn flour and fried hit the spot. Sprouts love capers and it turns out the feeling is mutual. Each little berry pops in your mouth with each sprout-filled bite. If you haven't tried salted capers before, do. The berries in brine are fine but the salted capers enhance the flavour of the capers better. I rinsed mine and then sat them in water for 10 minutes. Don't skip the soak. I did and the saltiness brought tears to my eyes. I ate it, it was amazing, but there were tears. Salty, salty tears.
To add a creamy touch to this is amazing crispy sprout and caper bruschetta I made a subtle cashew spread. I didn't want to detract from the main event. Avocado would also work. My husband and I also talked about mashed peas but I don't know where we landed on that, his mouth was full of bruschetta and I was too busy trying to lick the pan without burning myself.
Amazing Crispy Caper & Sprout Bruschetta
This amazing crispy sprout and caper bruschetta is amazing. It might even convert the most devoted of sprout haters to begrudgingly respect the ugly little cabbage.
Ingredients
Sprout & Caper Bruschetta
12-15

Brussels sprouts

ends removed and quartered

1/4

cup

salted capers

rinsed and soaked in water for 10 minutes

1/2

teaspoon

cornflour

2

garlic cloves

chopped finely

1

tablespoon

vegan or regular butter

5

tablespoons

olive oil

divided

juice of half lemon

pepper to season

ciabatta breadCashew Cream

1

cup

raw cashews

soaked overnight or in boiling water for 1 hour

juice of half a lemon

1

garlic clove

salt to taste
Instructions
Pre-heat oven to 180 degrees C

After soaking the salted capers for 10 minutes, pat them dry.

Put 1/2 teaspoon of cornflour in a bowl and toss the capers through to coat.

Heat 2 tablespoons of olive oil in a small pan to a medium to high heat.

Cook the coasted capers for around 3 minutes until crispy. Set aside in a bowl.

Heat 1 tablespoon of oil to a pan and fry the quartered sprouts until just starting to brown. Transfer from the pan to a baking tray and bake in the oven for around 15 minutes.

Combine cashew cream ingredients in a food processor or blender and blend until smooth.

In a clean pan, heat butter and 2 tablespoons of olive oil.

Add garlic and cook for around 1minuteor until fragrant.

Add lemon juice and pepper to taste.

Add capers and stir through. Remove from heat and set aside.

Slice the ciabatta in to 6 - 8 1/2 inch slices and brush lightly with oil. Toast on a griddle pan until griddle marks appear. Flip and repeat.

Remove the sprouts from the oven and toss through the lemon caper dressing while still warm. Taste and season if necessary.

To assemble the bruschetta, put a good dollop of cashew cream on the toasted bread followed by a heaped spoonful of sprout/caper mix ensuring a good distribution of both sprouts and capers. Serve slightly warm or at room temperature.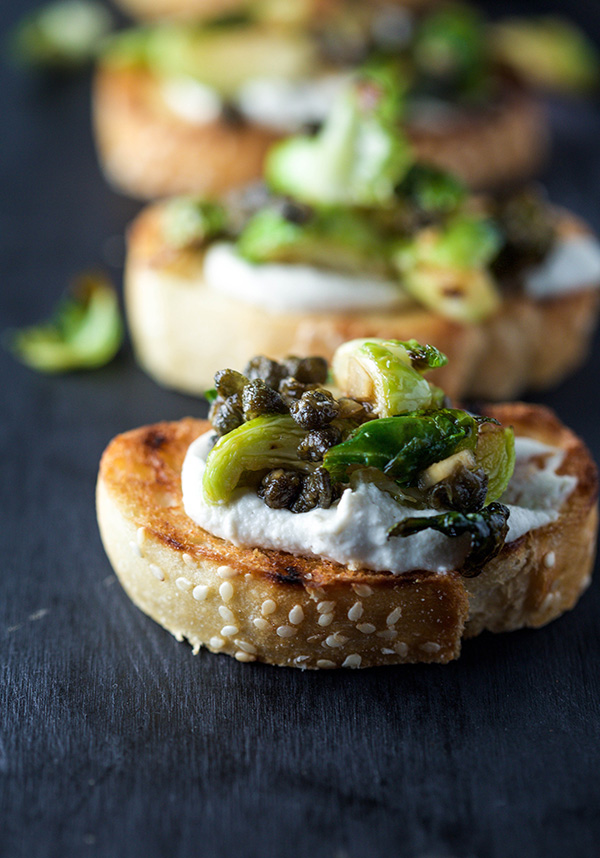 So, today I celebrate a little win. A dish that surpassed my expectations and made me smile to eat. Not too shabby for a Tuesday. I wonder what Wednesday will bring. Enjoy, xx