Not surprisingly bowls feature heavily in this roundup of my favourite My Goodness Kitchen easy vegan meals perfect for mid-week dinners. If you've ever found yourself inhaling your dinner while running around the house trying to find your son/daughter's karate gee/dance shoes/football shorts you'll understand the simple brilliance of the bowl.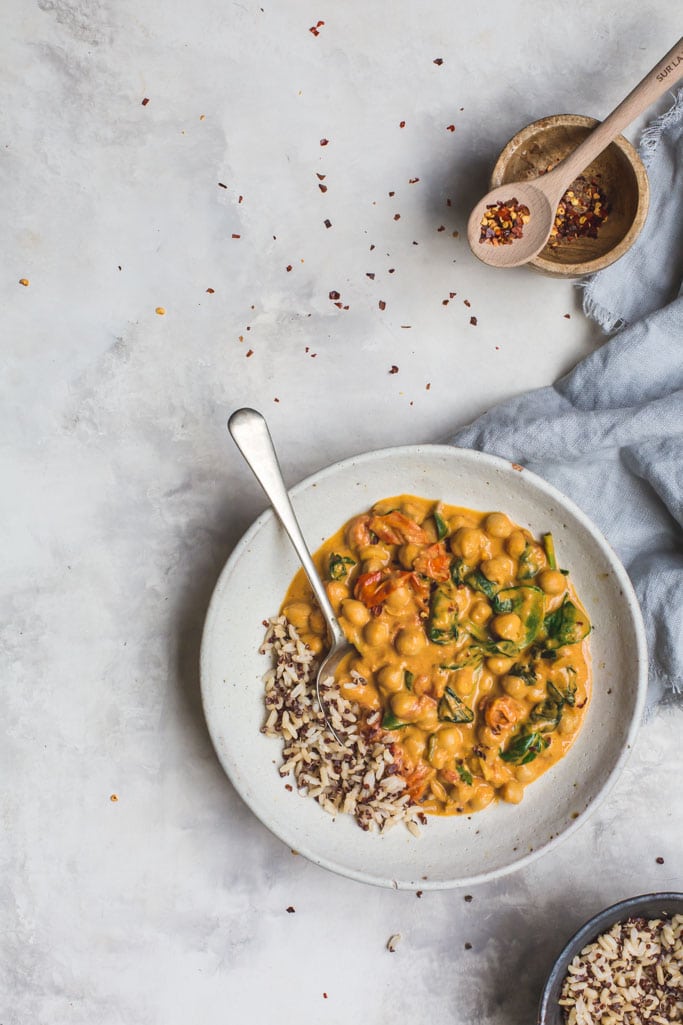 The most popular recipe from the Goodness Kitchen archives, this one-pot chickpea tomato and spinach curry tops my list of easy vegan meals. You literally throw the ingredients in a pan, sauté, stir and walk away.  Full of protein and iron packed chickpeas, Vitamin C rich tomatoes - to help absorb the iron -and super green baby spinach, this curry is a bowl of healthful goodness.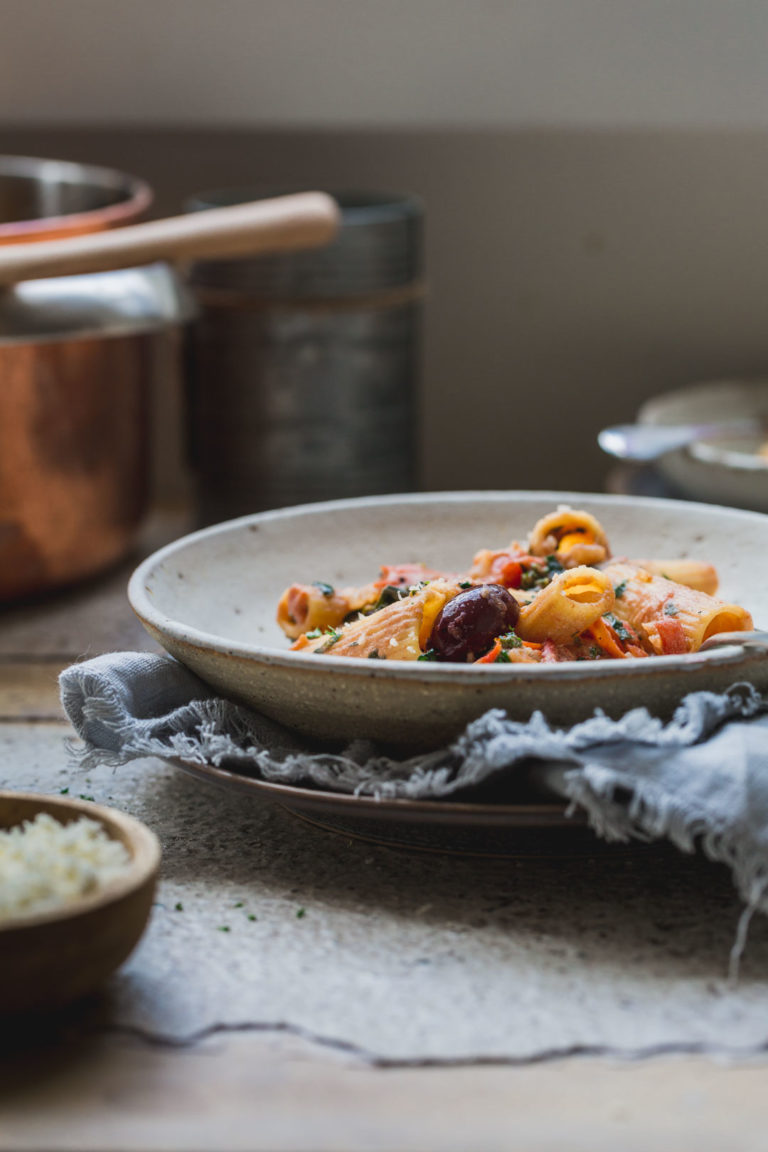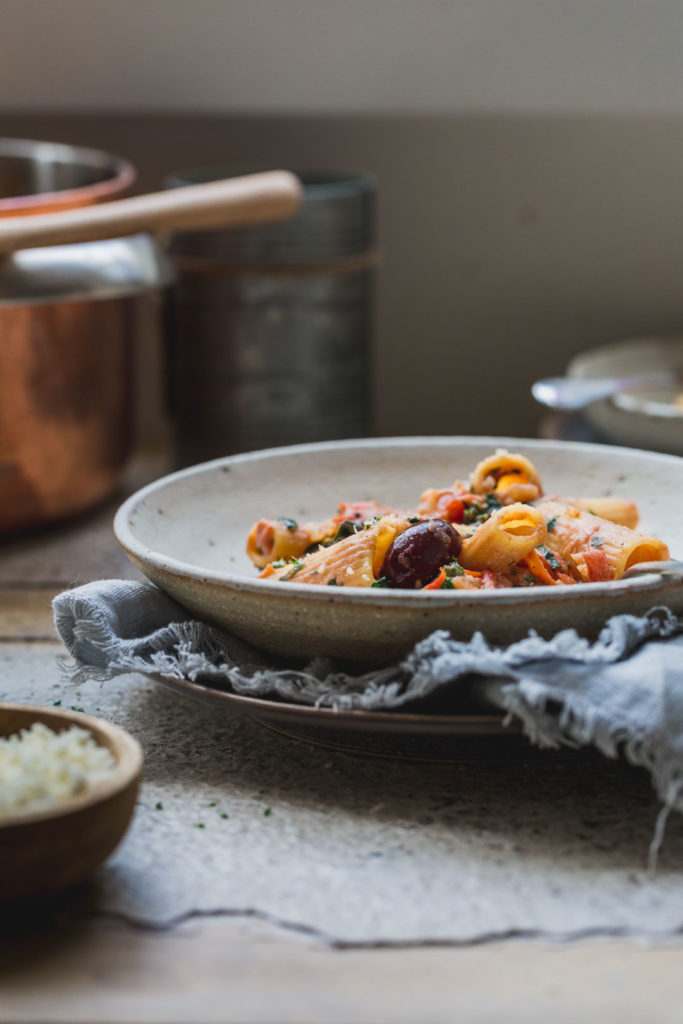 One pot = less dishes. Less dishes = a happy Mama. Perfect for a hectic weekday meal, the family will love this fuss-free bowl of creamy tomato pasta. It is full of robust tomato flavours tempered by a balanced dairy-free cream base.
Three ingredients; zucchini, cashews, stock and a little vegan butter and salt and pepper if you fancy. It doesn't get much easier than this easy vegan meal.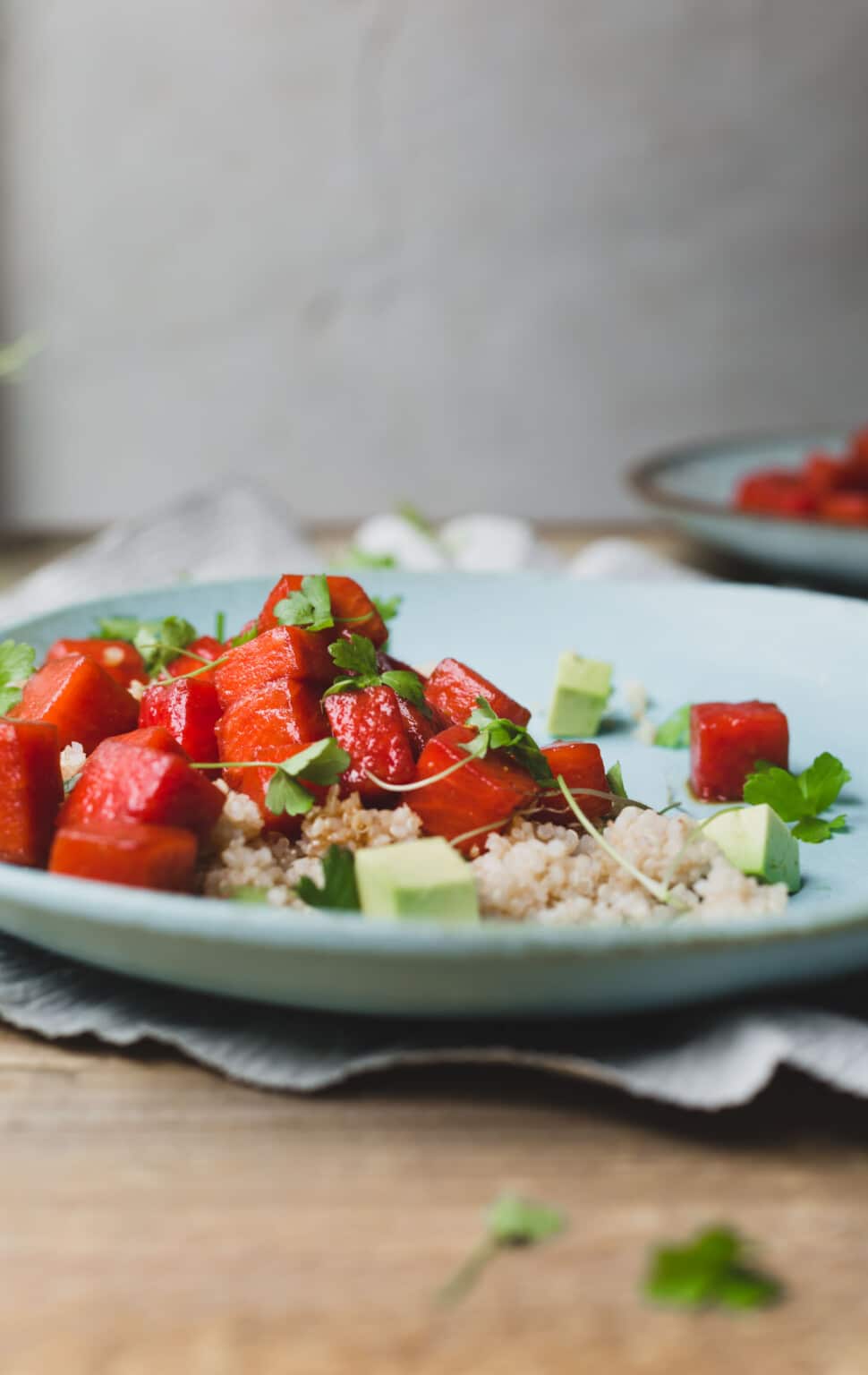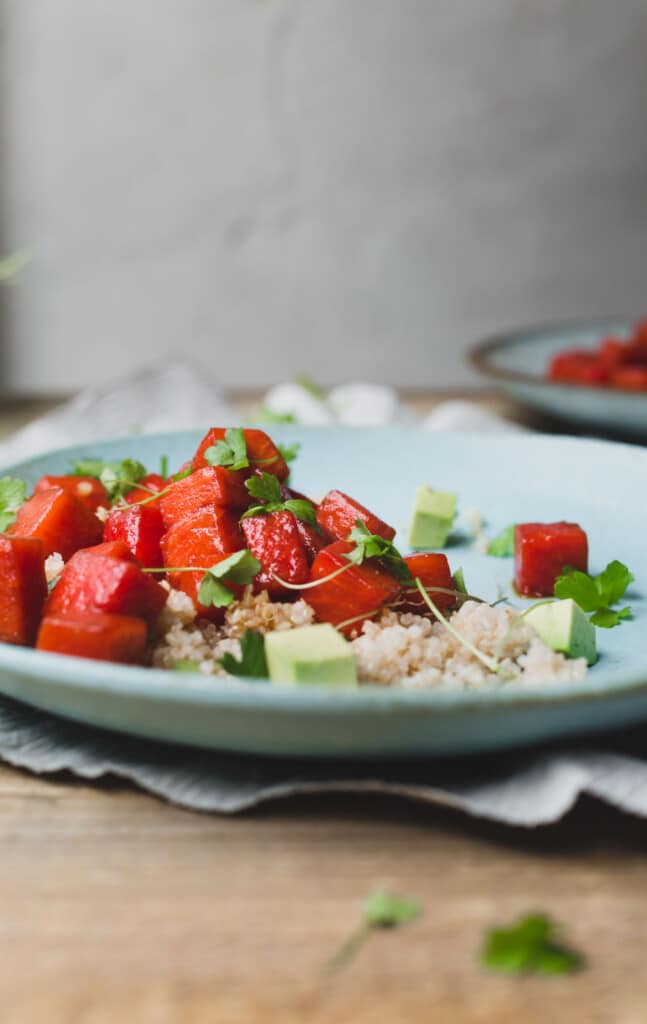 If you haven't tried a poke bowl (prounced po-kay), you're in for a treat. Traditionally made with tuna, this watermelon version is fresh with just enough sweetness to balance out the miso-sesame umami. Easily prepared during the day and left in the fridge to cure, this is a seriously easy and refreshing vegan meal perfect for the warmer months.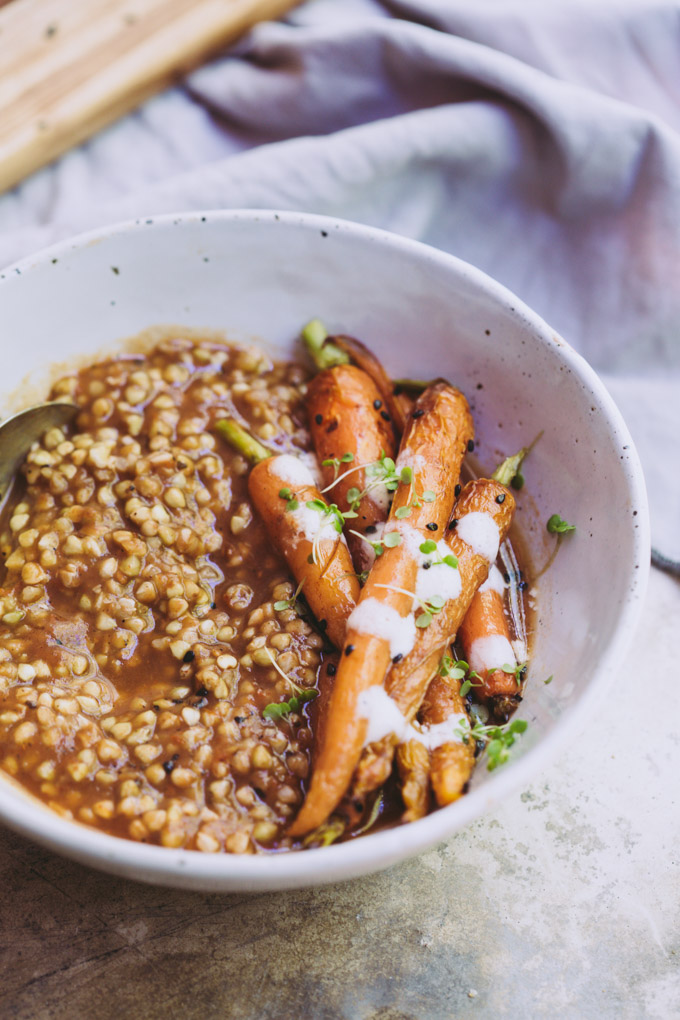 Buckwheat is one of my absolute favourite ingredients to cook with. It is a gluten-free nutritional powerhouse and is made even better by its itty-bitty price tag. I pick up a bag for around $3 - $4 and it's enough for at least 2 meals. Soaked overnight or during the day, buckwheat cooks in around 10 minutes. I chose this smoky eggplant bowl for this list of easy vegan meals but I also love the tomato and saffron and green pea and mint version too.
I don't eat beef because of the pretty moo-cows but I can create copycat recipes. This Vegan Loose Meat Sandwich recipe combines earthy mushrooms and lentils with roast capsicum, mixed spices and finely chopped spinach to create a wonderfully full-bodied, meaty, meatless burger. No cows were harmed in the making of this sandwich but I have confused some carnivores. PS. I also use this sauce to toss through some pasta for a simple mid-week meal.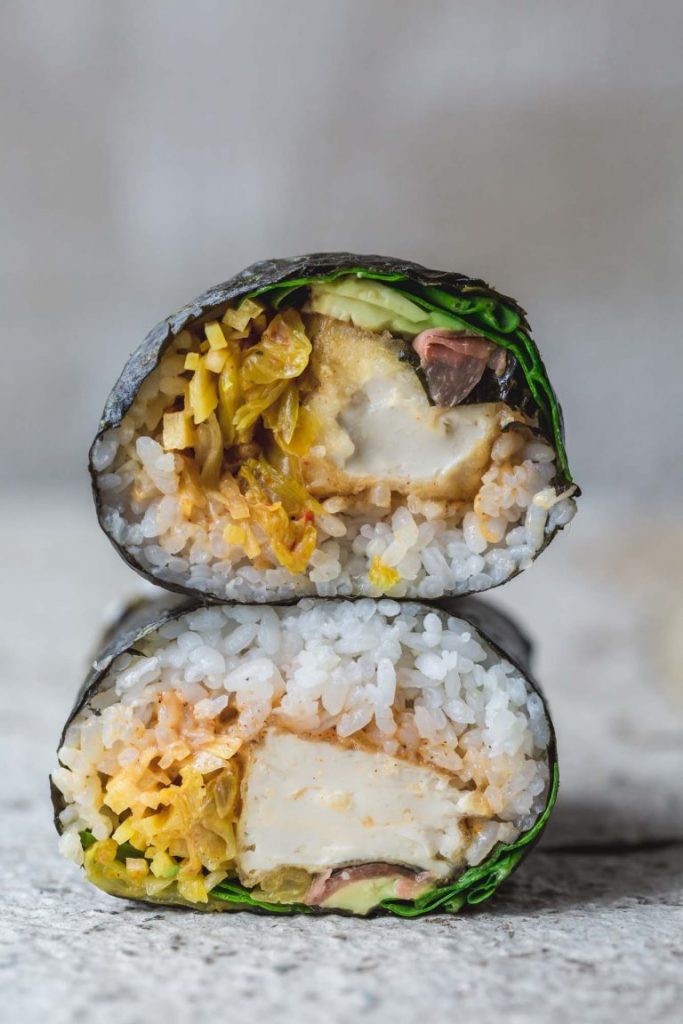 This tofu sushi burrito recipe is the fiddliest on the list BUT once the sushi rice has been cooked,  the recipe can be easily tweaked it to suit all members of your clan. If the kids don't want kimchi, don't add it. Hate tofu? Try sautéed oyster mushrooms instead. Mid-week chaos is not the time for dinner-time battles.Let them have their own custom-built sushi burrito and eat it too.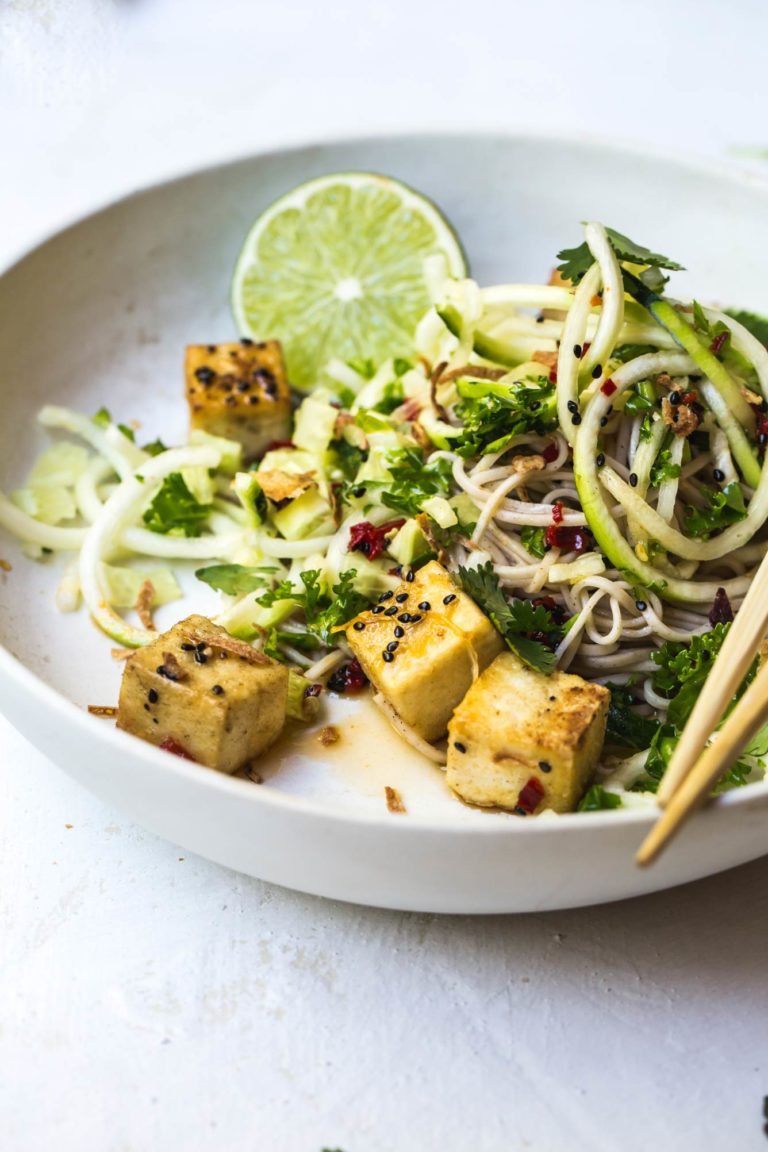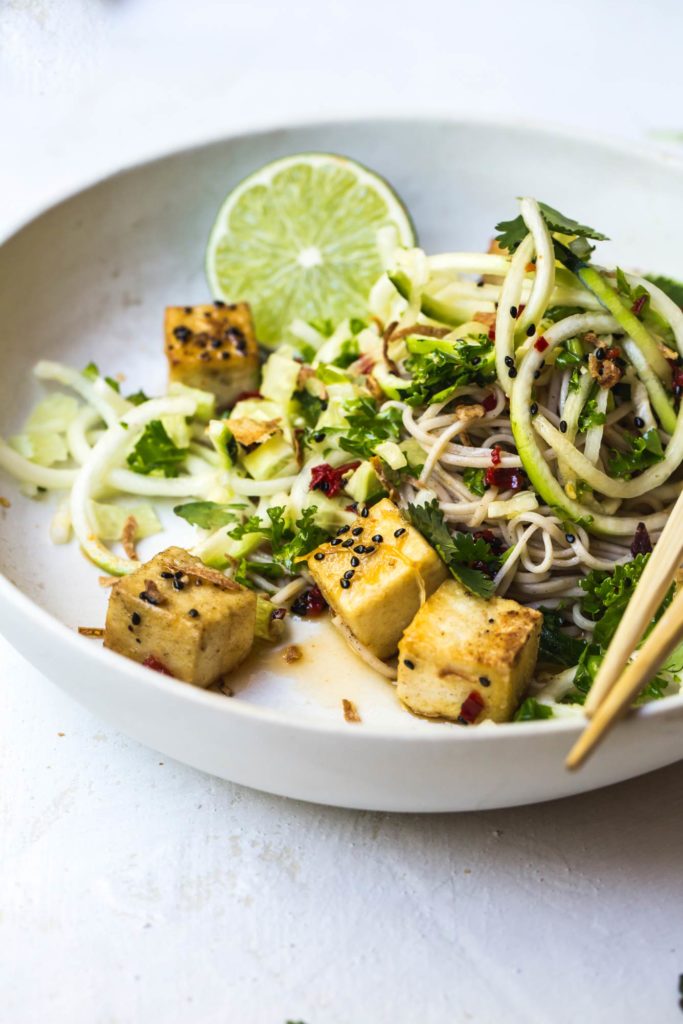 While we are talking tofu, this crispy tofu lemongrass bowl is so perfect for a quick Summer meal. Made with fast-cooking soba noodles entwined with raw zucchini noodles, massaged kale leaves, crispy skinned tofu and a spicy lemongrass dressing, this bowl packs a punch with very little effort. As far as easy vegan meals go, it doesn't get much easier.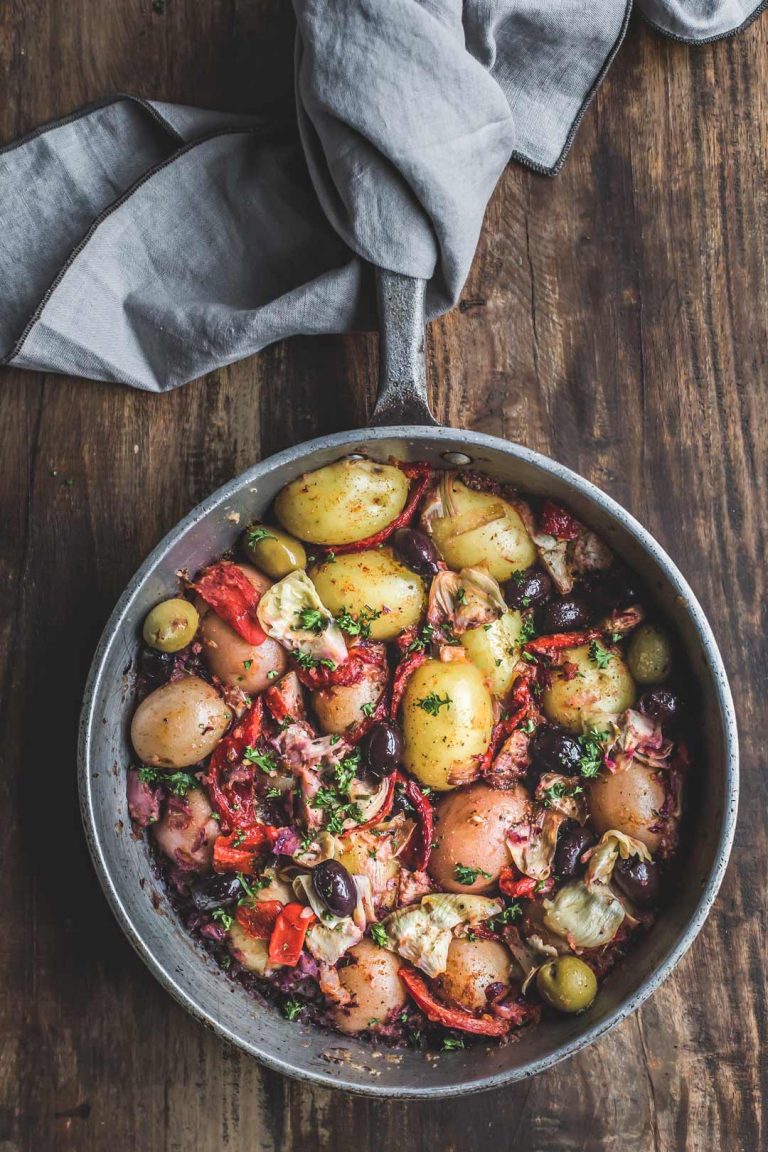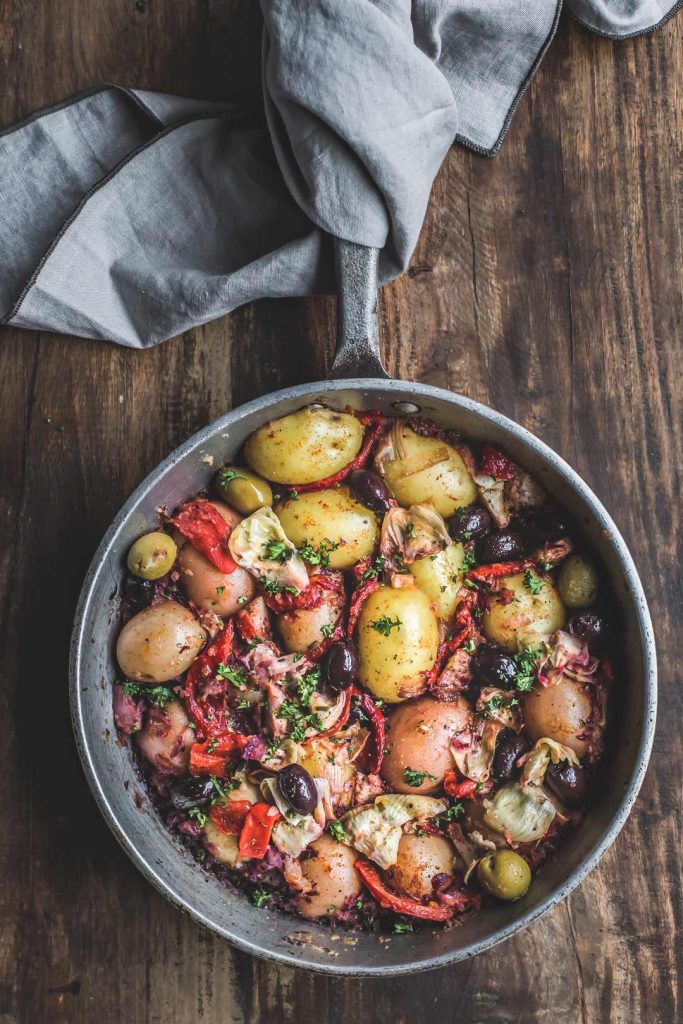 Simple Patatas a lo Pobre, poor man's potatoes, is a traditional Spanish dish that can be found on many a tapas menu. This version adds olives, peppers and artichokes to give it a little something special. Made simply in a skillet this comforting plate has long been a family favourite. Add chickpeas or lentils for a protein-rich version.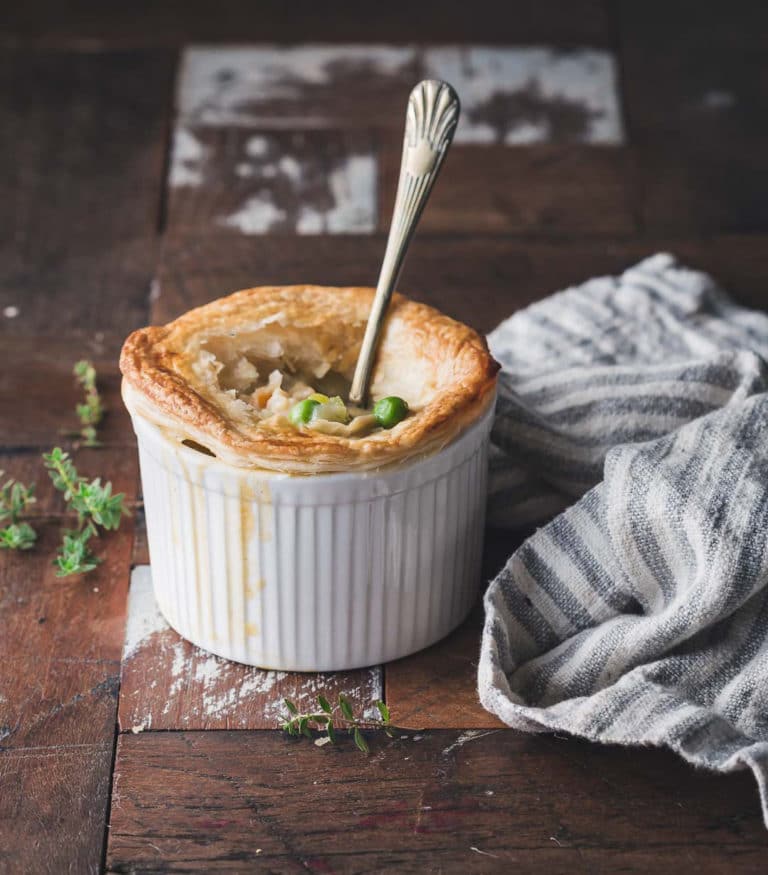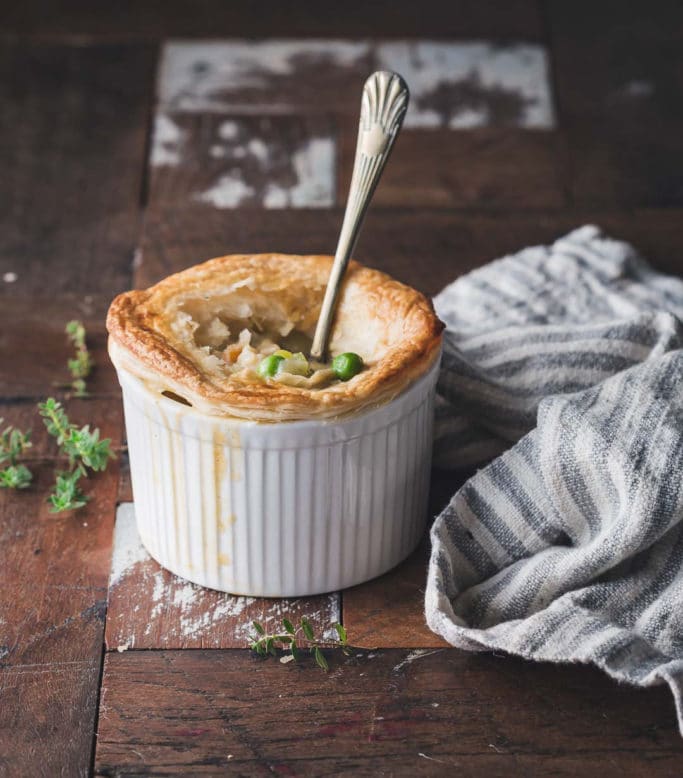 One of my favourite things to cook from my cookbook, these vegan pot pies use shredded king oyster mushrooms to mimic the taste and texture of chicken. Pretty enough to serve at a dinner party but easy enough to enjoy mid-week, these little guys are so simple and versatile.
Again with the oyster mushrooms! I know, I know!  But they are one of my favourite ingredients and really are a wonderful substitute for lighter meats and textures like chicken or scallops. Here I use them in my family-friendly and authentic Tikka Masala. Easy-peasy and so delicious.
With crispy, panko-crumbed tofu and a warming but delicate Japanese sauce this recipe from way back in the Goodness archives is still a favourite. The sauce is easy and quick to make and works not only with the tofu but also potatoes and chickpeas if you prefer. This Japanese curry is a favourite among my easy vegan meals rotation.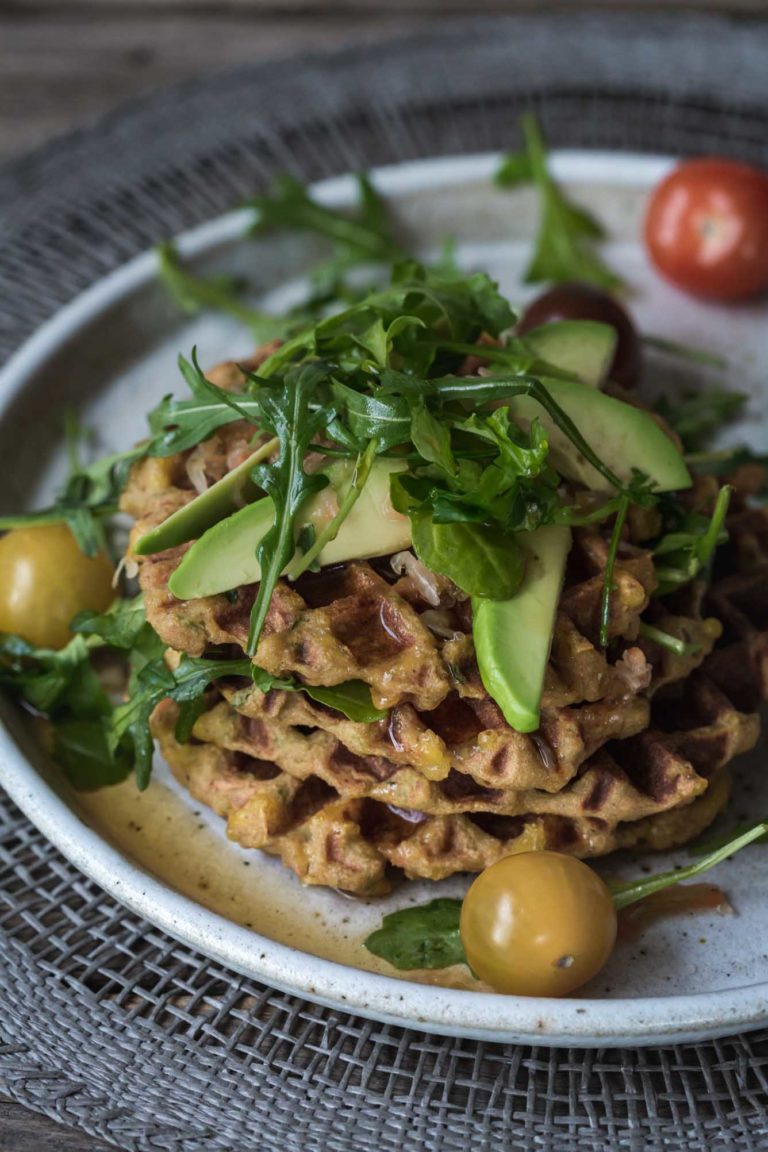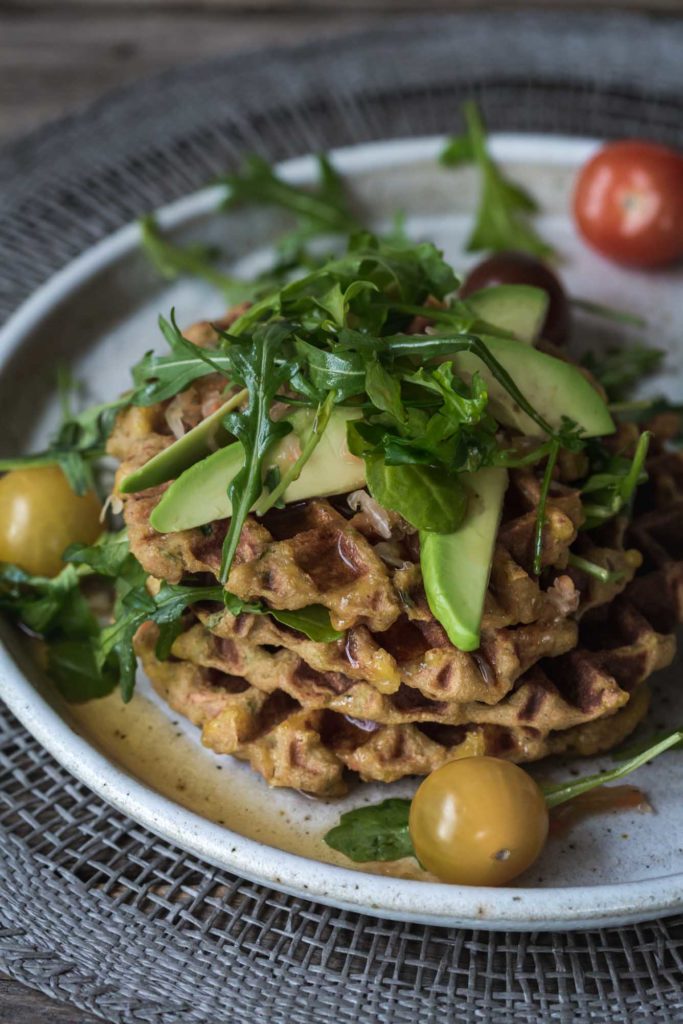 Any recipe that sneaks more vegetables in to our diet is a winner to me. These Vegan Mashed Potato Cheese Waffles are easy to make and more than meets the eye.
In the time it takes to cook the noodles, you can have this spicy noodle salad on the table.  While I have a recipe for vegan kimchi there are so many store-bought varieties now we are spoiled for choice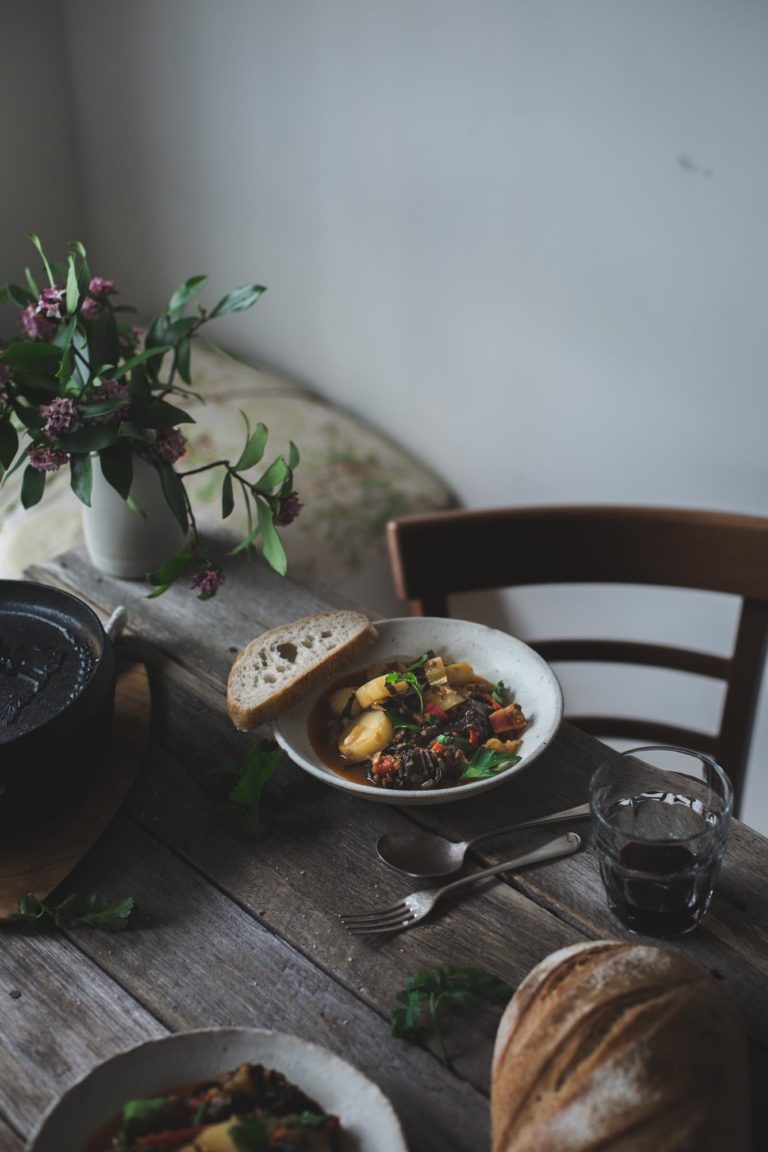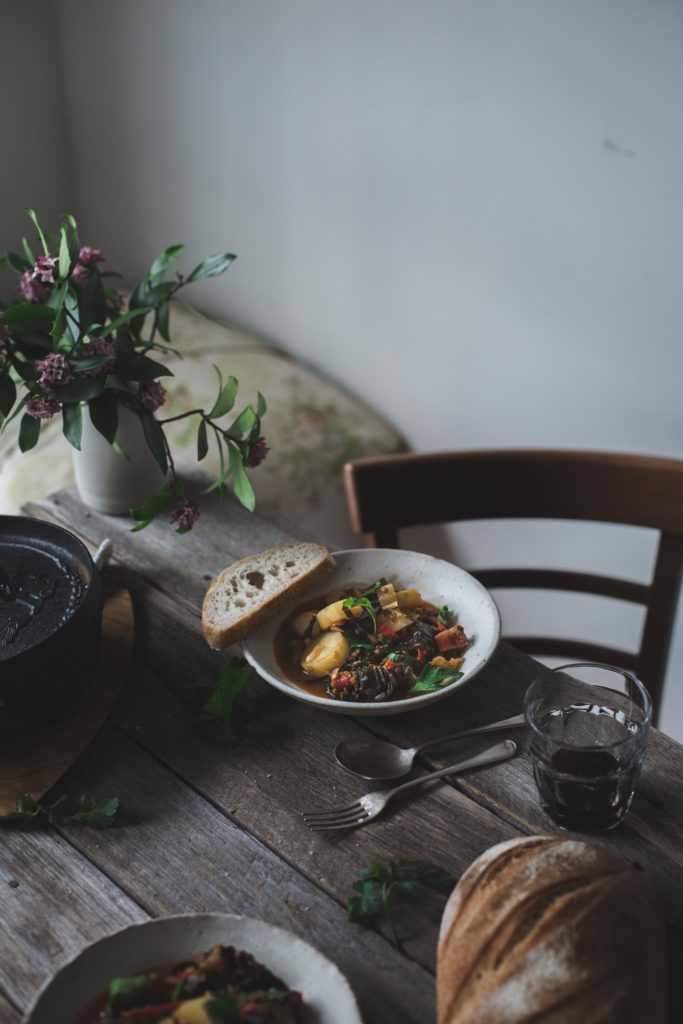 Rustic Spanish cuisine is often simple to prepare and celebrates the integrity of the ingredients. This Swiss chard and pimentón stew with lentils has only a few ingredients but it manages to pack all the nostalgia of a Spanish cantina in to every bowl. It's comforting and perfect for a chilly mid-week meal.
There you have it; my list of 15 easy vegan meals perfect for mid-week meals from My Goodness Kitchen. I hope you find something here to help make that mid-week grind that little but more delicious. Enjoy.